WILLIAM BEDFORD  received an Arts Council Major Bursary for Poetry in 1978, Society of Authors Award in 1993, Yorkshire and Humberside Arts Award in 1993, Yorkshire Arts Award in 2000 for the publication of The Redlit Boys and a Royal Literary Fund Award in 2007. His first novel, Happiland, was runner-up for the 1990 Guardian Fiction Prize. Collecting Bottle Tops: Selected Poetry 1960-2008 and None of the Cadillacs Was Pink: selected short stories and non-fiction were both published in 2009.He was on the Editorial Board of Poetry Salzburg Review from 2007 to 2016, and was Royal Literary Fund Fellow at Oxford Brookes University from 2008 to 2011. He was awarded first prize in the London Magazine International Poetry Competition in 2014. New collections of poems - The Fen Dancing and The Bread Horse - were published in 2014 and 2016.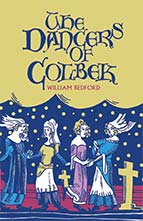 The Dancers of Colbek: From the medieval dancers of Robert Mannyng's Handlyng Synne to Wesley, Tennyson, Lawrence and Clare, William Bedford's The Dancers of Colbek explores his early years among the market towns and seacoasts of Lincolnshire.
The decline of rural ways of life emerges against a backdrop of American forces arriving in the 1960s, their nuclear weapons dominating the landscapes where medieval dancers once celebrated pagan rites in midnight graveyards.
'The key to Bedford's poetry is the unflinching openness in his dealings with readers ... a very emotional and enticing read' —AGENDA
William Bedford speaks directly in verse that is uncluttered and musical. Always authentic, always poignant' —THE LONDON MAGAZINE
'Haunting and haunted ... to be savoured on so many levels' —THE HIGH WINDOW

The Bread Horse

William Bedford's new collection of poems, recreating his mother's 1920s childhood in the east end slums of Sheffield.
The Fen Dancing
William Bedford's new collection begins with poems about his father's 1920s childhood in a remote farming community in Lincolnshire, and ends with the Manhattan skyline and the literary world of Greenwich Village.
Awards:
Shortlisted for the 2014 London Magazine International Short Story Competition
Winner of the 2014 Roundel Poetry Prize
Winner of the 2014 London Magazine International Poetry Prize